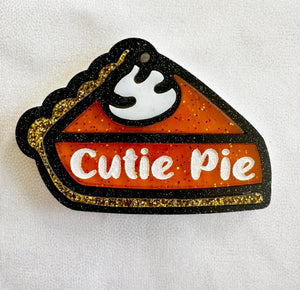 This charming Cutie Pie Dog Tag is sure to make your pup look paw-sitively irresistible! Show off your pup's fashionable side with this cute accessory featuring a slice of pie. Guaranteed to make tails wag!
These tags are double-sided and will have a white back with any text on the back in black.  These include the words "cutie pie" on the tag and do not have a name on the front.  If you would like a name instead of "cutie pie", please note that in the notes box.
Each tag is about 1.75" x 1.5" and 1/4" thick and comes with a split ring.  Processing time for tags to be created and shipped is about two weeks. 
 If you would like a larger (or smaller!) size tag, feel free to use the contact us form for a custom request.
The tags are made of acrylic and are for decoration only.   They should be checked regularly for wear.  Do not leave your pet alone with the tag on or let them chew on the tag.  If your dog is tough on their tags or likes to chew them, these may not be a good option for them.