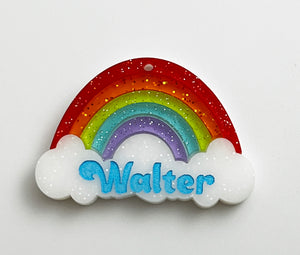 These vibrant rainbows scream spring!  You can choose between block or cursive (shown) font for these cute little rainbows.  

Each tag is about 1.5"x 1.35" and about 1/4" thick.  Each tag comes with a split ring.  Processing time for tags to be created and shipped is about two weeks. 
The tags are made of acrylic and are for decoration only.   They should be checked regularly for wear.  Do not leave your pet alone with the tag on or let them chew on the tag.  If your dog is tough on their tags or likes to chew them, these may not be a good option for them.